Sikh Missionary Society: Sikhism: Takhts: Sri Kesgarh Sahib

Takht Sri Kesgarh Sahib, Anandpur Sahib (Punjab)
A place where Khalsa was revealed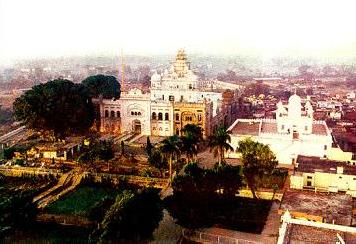 Takht Sri Kesgarh Sahib is the most sacred place for the Sikhs. It is located at Anandpur Sahib and is one of the five Takhts. It is one of the most holy places of the Sikhs. Kesgarh Gurdwara was built at the place where the historic ceremony of the inauguration of Khalsa took place on the day of Baisakhi in 1699. Anandpur Sahib is a city of bliss. It is about 40 kilometers from Ropar and 85 km from Chandigarh. Anandpur Sahib is linked with the Sikh traditions and their religious history. It is the place which had the touch of thousands of the martyrs who flowed their blood in the streets of Anandpur Sahib for upkeeping of righteousness.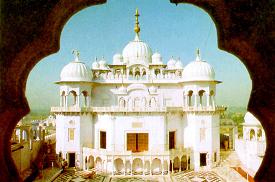 The site of the city of Anandpur Sahib on the lower spurs of Shivalak hills, was purchased by Guru Tegh Bahadur from the ruler of Bilaspur on a payment of rupees five hundred.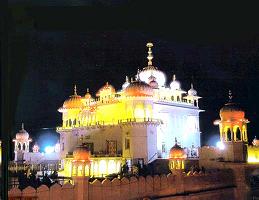 At the site of old Makhowal village, the town of Anandpur was founded in 1664 AD by Guru Tegh Bahadur. Originally , it was named Chak Nanki after the name of Guru's mother. Its foundation stone was laid by Baba Gurditta Ji grandson of Baba Buddha Ji on June 19, 1665. (Damdami Diary 96) Guru Gobind Singh spent 25 years of his glorious life at this place.

At this place, Guru Tegh Bahadur listened to an aggrieved group of Kashmiri Brahmins who were being terrorized and oppressed under the religious bigotry of Mughal Emperor Aurangzeb. Guru Gobind Singh, a child of nine, asked his father at Anandpur Sahib to make sacrifice to upkeep righteousness.

Guru Tegh Bahadur was beheaded on November 11, 1675 at Chandni Chowk Delhi. His chopped head was handed over to Guru Gobind Singh by Bhai Jaita at Anandpur Sahib. It was at Anandpur Sahib that the Guru flinging his arms around the neck of Bhai Jaita had declared, "Rangrete Guru Ke Bete" (Rangretas are sons of the Guru). Guru Gobind Singh cremated the head of Guru Tegh Bahadur at Anandpur Sahib, the place now marked as Sis Ganj Sahib.

Gobind Rai, a child of 9 years was coronated as tenth Guru of the Sikhs here at Anandpur Sahib after martyrdom of his father.

The festival of Hola Mahalla was first started by Guru Gobind Singh at this place to display the marshal arts of the Sikhs. This festival is celebrated here in the month of March every year.

Guru Gobind Singh wrote the greatest verses of ethical values at this place.

This is the place where Khalsa Panth was revealed by Guru Gobind Singh. On the day of Baisakhi in 1699, Guru Gobind Singh inaugurated Khalsa Brotherhood that served as cradle of a revolution which entirely changed the course of human history in this part of the world. He initiated the first ever five Panj Pyaras by shattering the age old caste system and asking them to initiate him (The Guru) into the new order.

Guru Gobind Singh required of the Khalsa to wear five Kakars viz. Kes, Kangha, Kara, Kachhehra and Kirpan at this sacred place. He ordered them to stay away from four Kurehts. The Guru gave appellation of "Singh" to men and that of "Kaur" to women to be used after their first names. It is believed that 20,000 people were initiated that day (Shiromani Gurdwara Parbandhak Committee: The Holy City of Bliss) at Sri Anandpur Sahib. According to Syad Muhammad Latif, "in less than a fortnight 80,000 Sikhs flocked to Makhowal (Anandpur Sahib) in obedience to the commands of the Guru (p.263 of History of the Panjab)

From 1701 to 1704, the holy city of Anandpur Sahib was under attack by the Mughals and Hindu Hill Chiefs. Guru Gobind Singh fought several battles at this place and was obliged to leave Anandpur Sahib in 1704 under pressure of countless enemies.

The Gurdwara (Takht) stores the weapons (Shastras) of known Sikh bravos which are exhibited to the visitors. These include Khanda used for preparing Amrit by Guru Gobind Singh Ji on the day of Baisakhi in 1699, Kattar and Barchha (Spear) of Guru Gobind Singh Ji. There is Nagni (Spear) of Bhai Bachittar Singh who drove away the drunken elephant of the enemy in an attack. "Saif" believed to be of Caliph Ali (son-in-law of Prophet Mohammad) is also exhibited for Darshan of the Sangat. The Saif is said to have been presented to Guru Gobind Singh Ji in the Fort of Agra by Emperor Bahadur Shah. ( See page 7 of "Sankhep Itihas of Sri Anandpur Sahib" published by SGPC & See Board at Main Gate of Takht Sri Kesgarh Sahib).

Festivals of Hola Mahhalla and Baisakhi are celebrated every year at Anandpur Sahib.

There are large number of Gurdwaras at this place to commemorate the historical incidents which happened here.

Other shrines at Anandpur Sahib are:
Gurdwara Anandgarh Sahib
Gurdwara Fateh Garh Sahib
Gurdwara Lohgarh Sahib
Gurdwara Holgarh Sahib
Gurdwara Sis Ganj Sahib
Gurdwara Bhora Sahib
Gurdwara Thara Sahib
Gurdwara Mata Jito Ji
Gurdwara Damdama Sahib
Gurdwara Manji Sahib