Sikh Missionary Society: Sikhism: Ceremonies: Turban Tying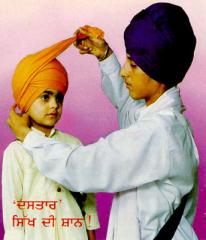 Ceremony of Dastar Sajauni
The Sikhs tie turban for the first time on the head of a child in presence of Sri Guru Granth Sahib. At the age of about five years, the ceremony of Dastar Sajauni (tying of turban) is performed for male children Either an Akhand Path or Khulla Path is performed to celebrate "Dastar Sajauni" ceremony in presence of the Sangat. This ceremony is not performed by all the Sikhs.
Ceremony of Dastar Bandi
Although this ceremony is not recognized anywhere, yet a ceremony of Dastar Bandi (turban tying) at the time of Antim Ardas after death is performed since centuries together. According to tradition, if the death is of the head of the family, then eldest son is recognized as the new head in presence of the community by having a turban tied on his head.
After that ceremony, the new head of the family will have the responsibility to take care of the family.