Sikh Missionary Society U.K. (Regd)

10, Featherstone Road. Southall, Middx, U.K. UB2 5AA

Tel: +44 020 8574 1902

Fax: +44 020 8574 1912

Reg Charity No: 262404

The Saint - Soldier (Guru Gobind Singh)
---
Bala Pritham
"The one, incomprehensible in spirit, uniquely brave, And of limitless courage, was made manifest."
(Bhai Gurdas Singh)
Guru Gobind Singh, the tenth Guru of the Sikhs was born at Patna (India) on 24th December, 1666. At the time of his birth his father, Tegh Bahadur, the ninth Guru, was preaching in Assam. Guru Gobind Singh himself writes about his birth in these words:
"My father departed for the East and visited various holy places. He stayed for some time at Paryag (Banaras) where he spent his days giving alms to the poor and doing other good deeds. It was then that I was born in Patna city."
During the family's stay in Patna, many holy men and friends of Guru Tegh Bahadur came to see the child then named Gobind Rai. Everybody was happy to see his cheerful and handsome face. They found him sweet and affectionate. As he grew up, his amiable manners made him the beloved of all. The old talked of his wisdom and his usually refined behaviour, while the boys of his age found in him a great playmate and an inspiring leader. He played games of skill and courage and soon began to organist his friends to fight mock battles. He always led them to light well and to have no fear in their hearts, although he taught them to respect their elders, he was strongly against those who demanded slavish obedience from the people. Once when the Nawab (Governor) was passing through the streets and people were bowing down and lying flat on the ground to show their respects to him, Gobind Rai did not like this at all and asked himself "Why should people sink so low as to bow to a man like this?" He refused to bow down himself and he asked his playmates to do the same.

When the Nawab rode past them, his friends went a step too far and jeered at him. This landed Gobind Rai and his boy battalion in trouble but he did not mind much. He was always full of adventure.

One day his playmates thought of some fun. They asked Gobind Rai to aim his arrows at the water pot which a lady was carrying. Being their leader, he did not want to disappoint them although he thought it was a bit silly He took up his bow and shot an arrow at the pot which fell on the ground in pieces. The boys enjoyed the fun and were greatly impressed by their leader's skill in shooting at a moving target. However, the lady complained to Gobind Rai's mother saying that Gobind Rai was playing naughty tricks. His mother scolded him and said "If you want to practise shooting your arrows at moving targets you should feel brave enough to go into the forest and try your skill on lions and leopards" Gobind Rai kept quiet and said nothing.

Sometimes for fun and sport Gobind Rai would take his gang of friends to the riverside where they would play tricks on the greedy and false prophets. They would throw cold water at them and drench their clothes. They took away their begging bowls when they sat with their eyes closed like cranes. The complaints against Gobind Rai multiplied.

Once, the boys gathered rotund a saint named Shiv Dutt to try their tricks on him. Shiv Dutt was in deep meditation, so Gobind Rai stopped them from making fun of him. They were going to disobey him when he said "Come along friends, there is more here than meets the eye. Follow me and keep quiet." Young Gobind Rai drew near to Shiv Dutt and said "Good sir, open your eyes." As Shiv Dutt looked at young Gobind Rai, tears rolled down his cheeks and without a word he touched Gobind Rai's feet. Gobind Rai told Shiv Dutt to sit again and apologized for disturbing him. Then he said, "Dear friends, where God's glory is seen, it should be a pleasing sight. Train your sight so that you may be able to see God's Light where it is reflected." From then on the boys ceased to molest Shiv Dutt who proclaimed that Gobind Rai was not an ordinary child but an enlightened one. Shiv Dutt began to sing the praises of Gobind Rai, loved him dearly, and met him frequently.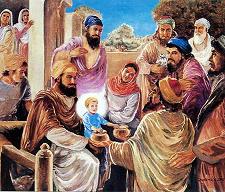 Once a saint named Bhikhan Shah of Ghuram (Ambala) visited Gobind Rai. He made up his mind to test what Gobind Rai thought of the two main religions of the land. He brought two pots and, without saying a word, placed them before him. Gobind Rai put his hands on each of the pots at the same time. The saint fell at Gobind Rai's feet, and later he told his Muslim disciples that he meant to ask young Gobind Rai whether he would favour the Hindus or the Muslims. The answer was that Gobind Rai would be a helper to all.
Once a Muslim saint, Araf Din of Lakhnaur (Ambala) passed through Patna with a band of his followers. Seeing young Gobind Rai playing with his friends, he stamped out of his carriage and bowed at his feet. His followers couldn't bear to see this, and one of them angrily said "Sir, you are a staunch Muslim and yet you bowed to this Hindu child. Have you become a Kafir (infidel)?" Araf Din smiled and said "I bow only to divine light. It will take a long time for you to see that light." To everybody's surprise he kissed Gobind Rai's hands and they parted smiling, without a word.
Raja Fateh Chand of Patna and his Rani (Queen) came to visit Pandit Shiv Dutt, the holy man of Patna. The couple had no children. They begged the holy man to pray to God that their heart's desire be fulfilled. On hearing this Shiv Dutt suggested that if an innocent child like Gobind Rai prayed to God, their heart's desire would be fulfilled. The Raja and his Rani then asked young Gobind Rai to visit their palace. Gobind Rai with his friends. visited the Rani and found her busy with her evening prayers. He appeared near her and surprised her, saying "Jhaat" (open your eyes and look). The Rani was full of joy to see young Gobind Rai. She could not speak a word for some time. In the end she asked Gobind Rai to pray to God to grant her the gift of a son, Gobind Rai said, "What kind of son should I pray for?"
"A handsome son like you" was the Rani's reply.
Gobind Rai smiled and said, "There can be no other exactly like me, so call me your son."
Saying this he jumped into her lap as if he was her own son. From that day the Rani always called him Bala Pritam (child God). Here was a son whom the Raja and the Rani could love. He became the joy of their palace. Gobind Rai and his friends were allowed freely into the palace and loved to eat Chhole Puri (baked bread and spicy gram) from the Rani's kitchen. Lovingly they built a big dining hall for him and his friends. The boys visited the hall almost every day to enjoy their favourite food. To this day Chhole Puri are served to all who visit the hall and there stands a temple in loving memory of Bala Pritam.
One day Bala Pritam went to the riverside with his friends, and they all began to practise throwing stones in the river. Bala Pritam took off his gold bangle and to everybody's surprise threw it into the river. When his mother came to know of this, she at once sent her brother Kirpal Chand, to go with Bala Pritam and find the bangle. On reaching the river Kirpal Chand asked Bala Pritam, "Where did the bangle fall?"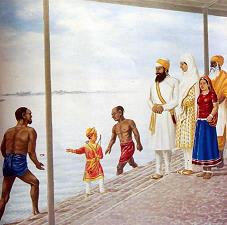 At once Bala Pritam took off his second gold bangle and threw it straight into the river saying, "Just there uncle."
Kirpal Chand was rather cross and took Gobind Rai to his mother. She called him to her side and asked why he had done that. Bala Pritam said, "Dear mother, you have nothing to worry about. I have only acted upon my father's advice. You asked me to sing his hymns every day and one of his hymns says,
"Whose lips no blame or flattery speak.
Who values iron as gold.
O such a man no power on earth,
As a slave can ever hold."
I don't want to go against my father's advice and I don't want to be a slave to the coloured clay (gold)." Everybody was pleased with Bala Pritam.

Thus, Bala Pritam spent his early days at Patna. He would get up before sunrise, take a bath and say his prayers. After breakfast he would sit down to study. In the afternoon he practised archery and organised mock-fights with his friends. In the evening he prayed once more sitting among his friends and then went to sleep. He was always very busy. He became the beloved Bala Pritam and was talked about by everyone in Patna.


Return to the top of the page.

---

Copyright (©)2004 by Sikh Missionary Society (U.K.)
All Rights Reserved.