Sikh Missionary Society U.K. (Regd)

10, Featherstone Road. Southall, Middx, U.K. UB2 5AA

Tel: +44 020 8574 1902

Fax: +44 020 8574 1912

Reg Charity No: 262404

The Guru's Way
---
Service
Guru Angad was very fond of children. He used to play and eat with them. He loved to watch their games. He always advised the children to take good care of their bodies. He made them take part in wrestling matches. The wrestling ring made by the Guru for young wrestlers is still to be seen at Khadur Sahib. The Guru also took a keen interest in the education of children. He himself wrote books for them and started language schools.

In the Guru's days, only the Sanskrit language was taught in the schools, which only the Hindus could join. All the books were written in Sanskrit and were, therefore, out of reach for the non-Hindus and the low castes. The Guru did not like this system at all, because Sanskrit was not the language of the common people. He wanted everybody to be able to read, write and understand what was written in the books. So he used Punjabi, the spoken language of the people. For this language he started using Gurmukhi script, which Guru Nanak had already made use of before him, The Gurmukhi script has thirty-five letters. Each letter has a different sound of its own. Besides these letters, there are twelve vowels. This language is very easy to learn. Once you recognise the letters and the vowels, you can easily read and write it. One can be a good reader within a few weeks. The Guru also collected facts about Guru Nanak from Bhai Bala and others, and had the first life story of Guru Nanak written for us in Punjabi.

Many people gave free service in the Langar (free kitchen) started by the Guru. An elderly man named Amar Das served in the Langar. He spent most of his time either in remembering God or doing service for the people and the Guru. He used to get up at midnight and go to the river Beas, about three miles away. After having his bath there, he would bring water for the Guru's early morning bath. He did this duty for about twelve years. Storm or rain, summer or winter, he would not miss his duty.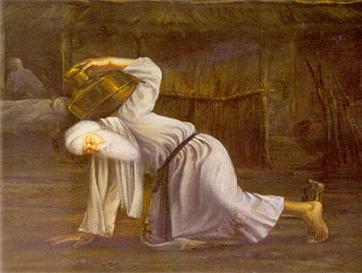 One night Amar Das was coming back from the river with a pitcher full of water. A storm overtook him on the way. It started raining heavily. His clothes were wet. It was very dark and he could hardly find his way. When he got near the village, he tripped over a peg fixed by a weaver near his house. He fell down and was badly hurt on the knee, but he did not drop the pitcher of water because that would have delayed the Guru's bath. Repeating God's name on his lips, he stood up and went on his way once again. But the noise woke up the weaver and his wife. The weaver cried out, "Thief! Thief!" But the weaver's wife had heard someone repeating Japji (the Sikh morning prayer). She at once understood what was happening.
"Don't worry," she said to her husband, "It is not a thief. It is that homeless Am'ru. Other people enjoy sleep at night, but he will not rest even then. He is a bit mad." After some days, the weaver's wife fell ill, and very soon she herself became mad.
That day, after taking his morning bath, Guru Angad called his two sons, Datu and Dasu, in the Diwan (Sikh religious meeting). He also called Amar Das. Then he said,
"O my followers, I have found Amar Das to be a man of God and a hard worker. He is noble, gentle, kind, humble and intelligent. I, therefore, make him the next Guru of the Sikhs."
Datu and Dasu were very sad to be rejected like this and they left the place grumbling. All the Sikhs accepted the Guru's wish and bowed to Amar Das. From that day Amar Das became the third Guru of the Sikhs.
"There is no merit in service performed under duress. There is no merit in the fine paid by a prisoner; And no favour conferred on others. Nanak, work which is done voluntarily is the best."
(Guru Angad)
"Whom shall I call low, for all have the same Master? There is one Master of us all; He gives men their various duties and watches over them. To some small, and to some great duties, none goes without them. Men come into the world naked, they depart from the world naked, Yet during their lives they make a great display."
(Guru Angad)
"Meeting the Lord does not mean seeing Him with one's eyes, He only meets the Lord, who has his heart and Soul attuned to Him."
(Guru Angad)
Return to the top of the page.
---

Copyright (©)2004 by Sikh Missionary Society (U.K.)
All Rights Reserved.