"The whole world is saying, 'Mine, Mine;' Yet worldly wealth goes with no one. Man suffers because of worldly love; Death is on the watch for everyone; O Nanak, only those who remember God's name will be saved."
(The Holy Book of the Sikhs)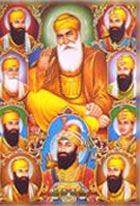 This book includes the accounts of the Sikh teachings as taught by the Ten Guru's.
Contents