Sikh Missionary Society U.K. (Regd)

10, Featherstone Road. Southall, Middx, U.K. UB2 5AA

Tel: +44 020 8574 1902

Fax: +44 020 8574 1912

Reg Charity No: 262404

In the Guru's footsteps
---
Guru Har Rai
Baba Gurditta was the eldest son of Guru Har Gobind. He died long before the Guru himself. Just after his death, a son was born to him, and was named Har Rai. Har Rai was brought up in the natural and beautiful surroundings of Kiratpur, a small town built by Guru Har Gobind in the Hills of the Punjab.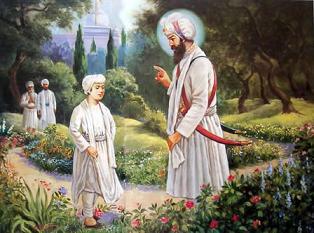 Har Rai was very fond of flowers. One day during his childhood he was passing through a garden. He was wearing a loose robe and jumping with joy. His flowing robe was caught on a flowering plant and when he pulled his robe away a few flower stems were broken. Har Rai felt very sad at having spoilt the beauty of nature without purpose. Afterwards he was very careful and did not wear such a loose robe again.
Guru Har Gobind had five sons. Three of them had died at an early age. Suraj Mal and Tegh Bahadur were the only two surviving ones. The Guru found Suraj Mal to be too worldly and Tegh Bahadur not yet ready to carry out the difficult task of a Guru. The Guru found the necessary qualities for religious leadership in his grandson, Har Rai. So Har Rai became the seventh Guru of the Sikhs on the death of Guru Har Gobind (1644).
Guru Har Rai continued the practice of holding religious assemblies twice a day morning and evening. He preached the true way of life. Nothing pleased him more than helping others. He always told his followers to injure no one's heart and to have respect for everybody's ideas. "A temple or a mosque," he said, "May be repaired or rebuilt but not a broken heart." He was very often heard singing these lines from Guru Granth Sahib :
"Everybody's heart is a jewel;
It is not good to break it.
If you long to see the Beloved;
hurt no one's feelings."
(Baba Farid)
The Guru not only cured people of their spiritual illnesses but also helped them to get rid of their physical diseases. For this purpose he set up a big dispensary at Kiratpur. Very able doctors worked in this dispensary. Medicines were given free of charge and the patients were treated very carefully. Many people benefited from it. The dispensary was open to all, irrespective of caste, colour, creed or country. Prince Dara, the son of Emperor Shah Jahan of Delhi, was cured by the Guru with a medicine which was available only from the Guru's dispensary.

One day a man named Kala came to see the Guru and receive his Instruction, bringing his two orphan nephews with him. When Kala bowed before the Guru the two boys began to weep and wail and hit their bellies. Everybody was surprised at this unusual behaviour of the boys in the presence of the Guru. The Guru smiled and said, "Dear Kala, what is the matter with the boys?"

"Sir," said Kala with tears in eyes, "They are the sons of my brother who died a few years ago leaving me to look after they and their mother. My Lord, I am very poor and can hardly afford them two meals a day. They have been hungry since yesterday. Help me my Guru, or the whole family will starve to death."

"Take heart Kala," said the Guru, "The Lord is merciful and gracious. Who knows what is in store for these lads? Today they are striking their empty bellies, tomorrow their sword might strike the tyrants bellies. Mysterious are the ways of the Lord, Kala, and these same orphans may become kings and rule over a vast country. The Lord can make oceans turn into deserts and the deserts He can make into oceans. Only repeat His Name, earn an honest living and look after the poor orphans as best you can."

Having received this blessing Kala was very happy and went home full of joy. He told the whole story to his wife. She was disappointed because Kala had earned a blessing for his nephews and not for his own sons. Pressed hard by his wife, Kala once again went to the Guru, this time carrying his two sons on his shoulders. The Guru understood what had happened and said, "Dear Kala, I am only a servant of the Lord. It is he who bestows honours and grants wishes. Pray to Him, dear Kala, if He is pleased He may make your sons what you wish. I can only say that if they work hard and honestly, they will be happy and will enjoy the fruit of their own labour."

In time, the straight-forward words of Guru Har Rai turned out to be a sort of blessing for the two families. The two orphans Phul and Sandli became the rulers of Nabha and Patiala. Phul died in 1689. The present ruler, Maharaja Yadvindra Singh, agreed to merge his state with the Indian Union in 1956. The Maharaja does not rule now but he is held in great respect because of his voluntary decision to join with the Indian Union and accept the national Government.

Kala's own sons did not become rulers but they became very rich landlords and were known as Bahias. They lived freely and no Government ever charged any land revenue or tax from them up to the present day.
"Nanak, call that a miracle,
Which the Lord graciously bestows."
(Guru Granth Sahib)
Return to the top of the page.
---

Copyright (©)2004 by Sikh Missionary Society (U.K.)
All Rights Reserved.